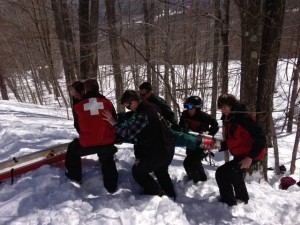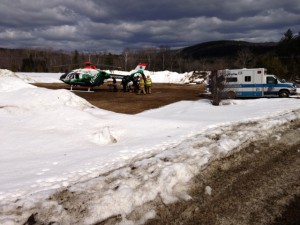 "My wife and four of our friends were enjoying a gorgeous day snow skiing at Okemo Mountain in Ludlow, Vermont.  I have been a professional ski instructor for many years (now retired) and have never had a skiing injury, but something went wrong that day.  I read a ridge in the terrain wrong and got sucked into soft, deep snow and before I could make necessary corrections I had hit a tree.  It was not pretty.
The Ski Patrol stabilized my body (with possible neck injuries) and took me to the bottom of the mountain where I was transported by ground ambulance to the helicopter pad at Jackson Gore and from there I was flown to Dartmouth Medical Center in Lebanon, New Hampshire and admitted to the trauma Intensive Care Unit.
After surgery and almost two weeks in the hospital (broken leg, fractured ribs, punctured lung, crushed hand, cracked skull and 3 fractured spinal vertebra), I was ready to be transferred to a rehab unit.  Since I faced at least three weeks of in-hospital rehab, we really needed to get back home.  I had to be transported 365 miles by ground ambulance to Strong Memorial Hospital in Rochester, New York to get me closer to our home, our doctors and the rehab facility.  Knowing the trip would be long, they put pillows on top of the gurney and gave me pain and nausea medication to keep me comfortable.
Today (early September) I'm in outpatient rehab and my leg is progressing nicely.  My ribs, spine, and lung are healed, but rehab on my hand is progressing slowly.  I have received superb medical care both in New Hampshire and in Rochester.  The quick evacuation by helicopter probably helped in saving my life, and the transfer back home after the intensive care made it possible to rehab near our home."
How did you find out about SkyMed and why did you choose SkyMed?
"We learned about SkyMed at a Winnebago Rally and chose them because they seemed best prepared to serve our travel life style.  We travel to ski in the winter and travel as volunteers with Habitat for Humanity in the summer.  SkyMed gave us increased medical security and also contracted to return our two parrots home in an emergency."
What would you tell your friends about your experience with SkyMed?
"We have told many of our friends about the security we felt when we had a medical emergency away from home.  SkyMed made and paid for transportation arrangements that would have been very difficult for us to handle under difficult circumstances."
The Humms have been SkyMed members since 2004.
Please follow and like us: