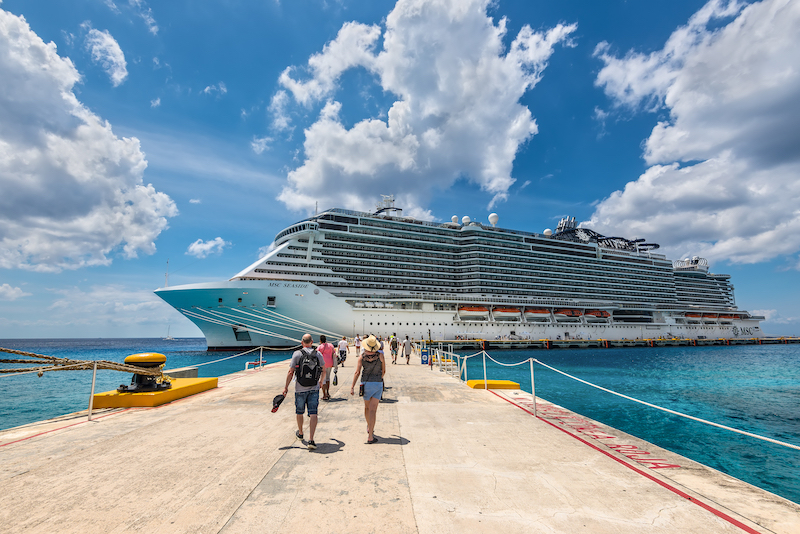 There is nothing quite like the charm of a Mexican beach town. Surround it with the crystal blue waters of the Caribbean Sea, and you really have something incredible. In Mexico, that "something incredible" is the island of Cozumel, a popular stopover for cruise ships and a fantastic day trip from Cancun.
This Caribbean hideaway is often perceived as part of Cancun, but that's not quite right. Cozumel is approximately 11 miles off the coast of Playa del Carmen, which is about 40 miles south of Cancun. It's an easy one-hour ride on the ferry and most definitely worth the few minutes you may have to stand in line to buy your ticket. Almost entirely flat, the island measures roughly 29 miles long by 9 miles wide. The interior of the island is a tropical jungle, while the coastline boasts beautiful ivory-white beaches, turquoise waters, and one of the most spectacular ensembles of coral reefs in the hemisphere.
The island's history is rooted deeply in the Maya culture. It is said to have been settled as early as 300 A.D. Cozumel flourished as a commercial port for the Maya sea trade and functioned as a ceremonial center for cultural activities. Hernan Cortes landed here in 1519 en route to his conquest of the Mexican mainland. Later, the island's coves provided a sanctuary for marauding pirates. By the 19th century, Cozumel became a notable port-of-call on the chicle (chewing gum) export route from Central America, and during World War II, a U.S. Air Force base was built here and utilized as a launch point for allied aircraft to hunt for German U-boats.
Today, Cozumel is a haven for cruise ships, honeymooners, divers, eco-tourists, and day-trippers who want to escape the fast-track life in Cancun. Sometimes the city proper can get a bit crowded, but it is usually only for a few hours or so. (Wednesday is the busiest; Sundays, there are no cruise ships.) Diving and snorkeling are legendary here. Following a 1961 documentary by Jacques Cousteau, Cozumel earned a worldwide following of divers who ranked it as one of the top five scuba and snorkeling sites on the planet. The island boasts more than 30 spectacular reefs stretching for nearly 20 miles. The water visibility ranges as deep as 280 feet at some reefs, with temperatures averaging 82 degrees in the summer and around 73 degrees in the winter. Many of the "tourist" areas have plentiful but relatively less marine life than in years past, so we recommend planning your dive trips at some of the island's more remote locations.
If you are a non-diver, there is still plenty to do and see in Cozumel. In fact, only 30 % of the island's visitors are divers! You can hire a cab or rent a car to explore the small archeological sites and exciting towns and villages scattered en route. The main town of San Miguel is an excellent place to stroll around and check out the hodgepodge of cafes, restaurants and boutiques. Nature lovers can see giant sea turtles laying their eggs (May to September) and observe the island's variety of exotic migratory bird life. Or you can do what most visitors do in Cozumel: swimming and sunning!
The island's lodging has been significantly upgraded in the last few years. While you will still find a wide variety of budget properties, the larger chain resorts have added plenty of shine to the rustic flavor. Along with the hotels has come a robust assortment of dining and shopping possibilities. And though growing quickly to accommodate its new visitors, Cozumel still maintains its laid-back style and unprecedented beauty.
If you're going to the Yucatan, Cozumel should be at the top of your list. Whether it is for a few hours, a few days or a few weeks, it will undoubtedly leave an impression on your senses.
 (Curious about a stop in Cozumel on a cruise or a complete vacation getaway? Contact SkyMed Travel at 800-568-8994 and let your Travel Advisor make it happen—at no extra cost to you!)
Please follow and like us: