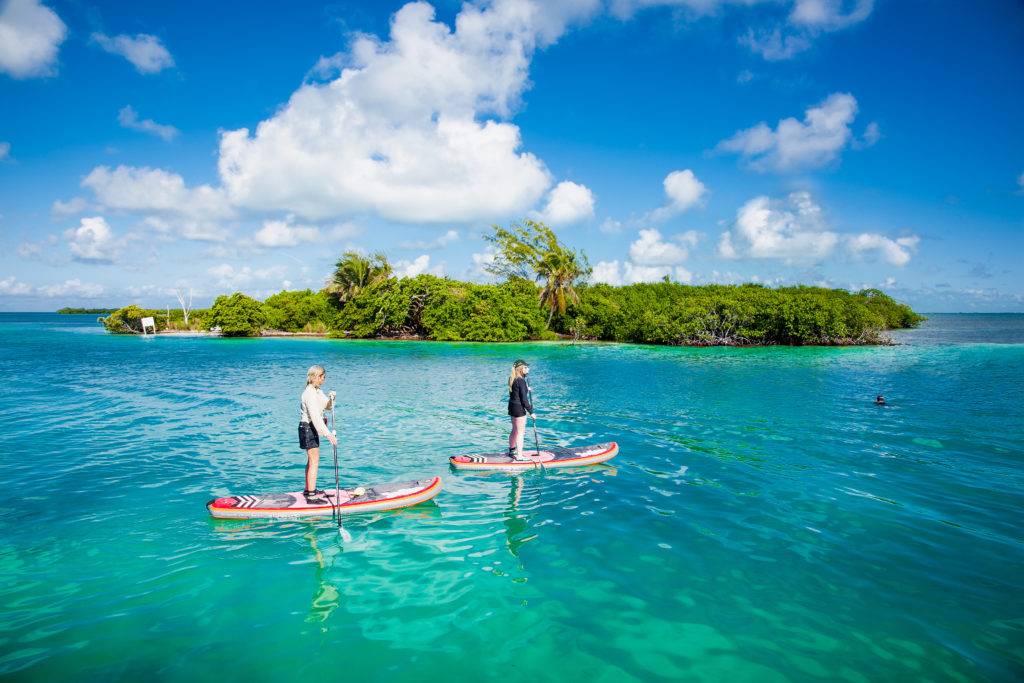 Belize: a tiny country blessed with mile after mile of amazing beaches and an offshore dotted with so many cayes (pronounced keys) and atolls that it's a diver's dream come true—but it's so much more than that. Tucked between the Mexican state of Quintana Roo to the north and Guatemala to the west and south, this is a glorious, laid-back Caribbean vacation destination that mixes in plenty of eco-adventures, good food, and great music.
To give you a better perspective, the country is about the size of Massachusetts but with a lot fewer people—it has large areas of dense jungle dotted with Mayan ruins, beaches, and a mixture of nationalities thatrange from Mestizo and Creole to Garifuna and Maya. Sound colorful? You bet!
Below is a list of some of the many things you can enjoy on a Belizean vacation. All you have to do is bring plenty of sunscreen and leave all your worries behind…
Get ruined
Some of the ruins from the ancient Maya civilization areeasier to get to than others, but there are so many you won't leave withoutseeing one! For example, less than an hour from Belize City, Altun Ha was once home to 10 thousand people. Caracol, thought, is deep within the ChiquibulForest Reserve of the Maya Mountains. This is a spectacular adventure with thepayoff of seeing one of the country's most important Mayan cities, covering anarea of nearly 25 thousand acres.
Birds of a feather
Belize is home to over 500 species of birds. If you're a beginner bird watcher, you'll find there these feathered friends are so plentiful you'llmore than likely be able to check off half your list just by keeping your eyesopen: you'll see flocks of colorful birds like scarlet macaws from your hotelbalcony, especially in the early morning or late evening, although it really isan anytime activity. More experienced birders, on the other hand, can check inwith the Belize Audubon Society, get a list and, for example, cruise themangroves of the Hol Chan Marine reserve for roseate spoonbills and thelike.
Be adventurous
Here you can head underground and check out the caving, which you can make either serene or adventurous, depending on what your heart canhandle. If you want to take it medium-easy, the series of limestone caverns atActun Chapat, for example, can be accessed after a moderate hike and includesome modest rock climbing, but the reward is Indiana-Jones' worthy: amazingformations, ancient ceremonial altars, Maya artifacts and relics, humanremains, glyphs and more.
Do it deeper
Belize is home to an endless number of cayes—or islands—and three of the only four coral atolls that exist in the western hemisphere. It's also home to the Belize Reef, a UNESCO World Heritage site and the largest barrier reef in the area with a full 185 miles along the coastline, which means dive sites galore for all kinds of divers, from beginners to experts. Some of these cayes, like Caye Caulker, St. Georges Caye and Ambergris Caye have resorts,restaurants, and cultural experiences of their own. Others like the GladdenSpit and Silk Cayes Marine Reserve provide the rare opportunity to swim withwhale sharks (in season).
Sail down the river
One best ways to experience Northern Belize is to take a boat tour down the New River—it boards at Tower Hill Village in Orange Walk Town, which is a great place to soak up local culture and history. The boat takes you down the river over 25 miles past jungle filled with wildlife all the way to Lamanai, one of the largest Maya sites in the country. This temple is super impressive, and we highly recommend climbing to the top of the High Temple for some amazing pics. The experience even comes with sound effects: think howler monkeys and hundreds of chattering birds.
Take it easy
Caye Caulker is the more chill, laid-back island, where the motto is "Go Slow" and you can pretty much walk from one end of this little island to the other. After diving, snorkeling, fishing or swimming, we suggest a cold drink and some island ceviches. And don't miss a morning visit to the Swallow Caye Wildlife Sanctuary to check out the manatees followed by anafternoon sea kayaking around the island (in case you need to burn off thelobster you had for lunch.)
Go back in time
Belize can also be completely and totally unexpected. If you take the road from Belmopan to the town of San Ignacio (a fun market where you'll meet people who are a blend of mestizos, Maya, and Garifuna with a heavy sprinkling of North American and European expats), you'll come upon the entrance to the Spanish Lookout, which is actually… Amodern-day Mennonite settlement! It's pretty incredible: it looks like a little town from Mid-America plopped down in the middle of Central America.
Play spot the jaguar
A visit to the Cockscomb Basin Wildlife Sanctuary is a must. This sanctuary is the world's first reserve dedicated to the mighty jaguar. And, if you're lucky, you might be able to actually see one. A couple of tips and tricks for when you go: the best time to spot them is at night and the postseason is the rainy one, June and July. Cockscomb has camping facilities and cabins to rent to anyone who wants to stay up and wait for a sighting.
The world is full ofadventure! Book yours today with your Personal Travel Advisor at SkyMed Travel and get a free SkyMed Essentials Membership for free. #travelsafe #travelsmart #getSkymed
Please follow and like us: