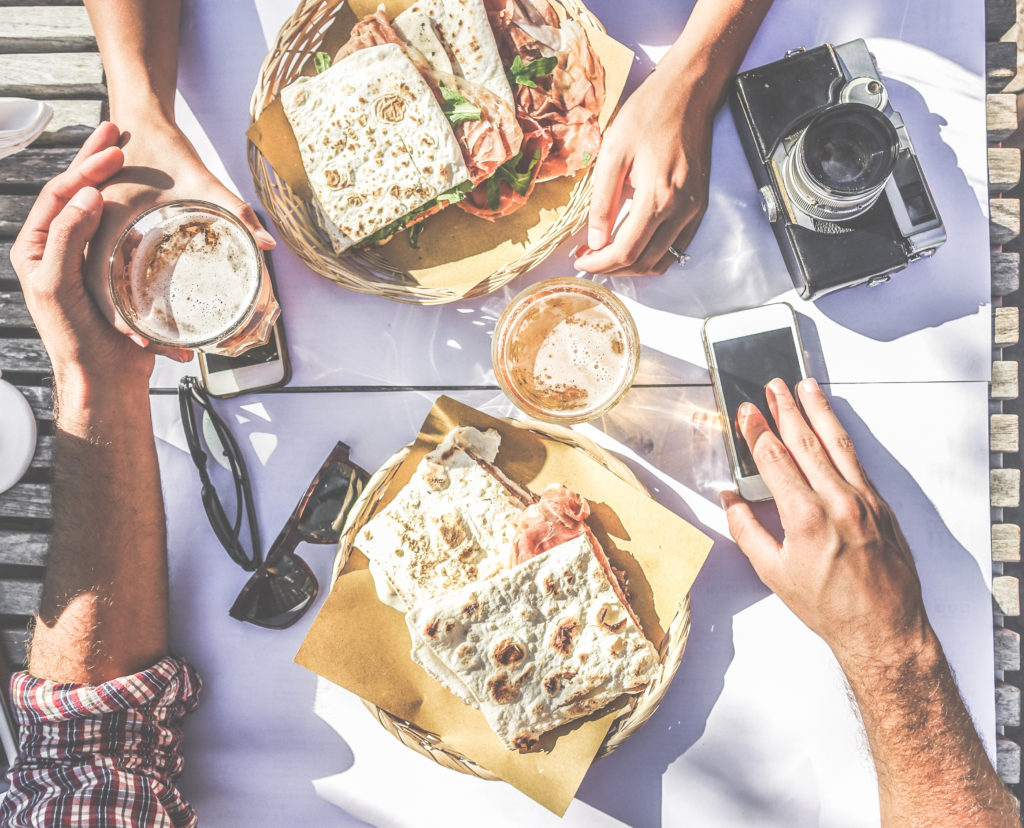 Most foodies find the combination of travel and good eats too hard to resist—and there's no reason why it should! From finding the best street tacos in Mexico City to savoring farm-to-table dishes in Portland, it's amazing how much tastier food is when you're on vacation.
If you're a foodie at heart or traveling just makes you hungry, read on for a list of some fantastic food adventures you can add to your bucket list this year.
Mexico City, Mexico
Since we already mentioned it, why not start here? This is a pretty big city and there's so much to cover, we'll just hit a few highlights. Gourmet dining is at its finest with restaurants like Enrique Olvera's Pujol, Jorge Vallejo's Quintonil, and Mikel Alonso's Biko Restaurant—all of which, by the way, have made it onto the list of the foodies' bible: World's 50 Best Restaurants List. If you're looking for something a little less formal check out the street food: it's actually been recognized as a UNESCO Intangible Cultural Heritage. Need we say more? That takes us to their famous marketplaces, like the one at La Merced, but we'd highly recommend you hire someone to take you by the hand for that exploration, such as Cristina Potters from Mexico Cooks—a native English speaker and one of the coolest, most knowledgeable chef/tour guide you'll ever have the pleasure of eating with (follow her blog, you won't regret it).
Portland, Oregon
Another topper on our list of favorite places to eat: Portland, Oregon, for its incredible range of fresh ingredients—including 300 kinds of truffles—to its superb coffee. We recommend foodies book a summer visit when flavors are at their peak. Don't expect white linen tablecloths and silver place settings here: locals prefer hiking boots over heels and fleece over cashmere. Check out Biwa for an order of extraordinary Japanese cooking including steaming bowls of ramen; Muscadine for cornmeal-crusted fried catfish chunks, salty fried chicken or creamy grits; or head over to Stammtisch for beer hall drinks and treats (warm pretzels, sliced pork and veal sausage, and crispy French fries) at their best. And that's just the very wee tip of the gastronomic iceberg. Good thing there are a lot of things to see and do in Portland so you can burn some of that off…
Palermo, Italy
This is Sicily, land of some of the best tasting and most gorgeous food on the planet: everything is fresher than fresh, whether it's a ridiculously rich chocolate cake or fried potato croquettes made with a total of six ingredients. The former, known as the torta setteveli, or Seven Veils Cake, is comprised of crispy layers of pastry with dark chocolate and hazelnut cream. Sinful. Try it at the Pasticceria Oscar or the Pasticceria Cappello. The latter, also known as crochhé, are a popular street food (read: comforting and delicious) you can get at the Friggitoria Chiluzzo or Nni Franco U'Vastiddaru. Fugghedaboutit when it comes to Michelin star restaurants: in Palermo, the street food is where it's at for foodies. And, as in Portland, there's plenty of sightseeing you can do to walk off all that good food. Here's a great list of 100 things to do not just in Palermo but around the rest of the country as well, because, as we all know, Italy in its entirety is foodie heaven and you're going to need the exercise!
Tokyo, Japan
Sure, Tokyo is always on every foodie's list in the world—but there's a good reason for that. For starters, it has more Michelin stars than any other city, followed by the fact there are so many restaurants (about 100K) you'll find a new place to go for each of your daily three meals, whatever your budget. If you want to go really high end, try Shima, where the wagyu also comes in sandwiches as well (you can only get them as takeout if you order a steak dinner, so if you're there, save that meal for right before you go so you can take them on the plane!). Want to savor the city's best cup of coffee? Head to Café de l'Ambre, a cozy coffee shop that's been around since the late 40s and is all that, just steps away from the Ginza thoroughfare. If you're a fan of tonkatsu (breaded deep-fried pork), you won't find anything stateside like the one at Butagumi, where getting there and being there is part of the experience.
Montreal, Quebec
This is a city that's easy to love—and its restaurant scene is no exception. There's a whole new generation of "maverick chefs" here putting traditional ingredients to new paces: think liver, poultry, and beef tongue. Veggie lovers have nothing to fear, though, places like Le Vin Papillon have fresh produce on full display, picking the best of the season and pairing it with wines hand-picked by co-owner and sommelier Vanya Filipovic. Stay true to the Quebecois roots at La Binerie, serving it up hot since 1938. Baked beans, the local version shepherd's pie known as patê chinois, meatball stew, and more are on the menu, all hearty and traditional meals that will stick to your ribs. And we'd be remiss if we didn't point foodies in the direction of Au Pied de Cochon, an ode to foie gras and everything pork, the creation of chef Martin Picard. Don't miss the chef's signature poutine: his version of fries covered in gravy, cheese curds, and a lobe of duck liver.
Please follow and like us: