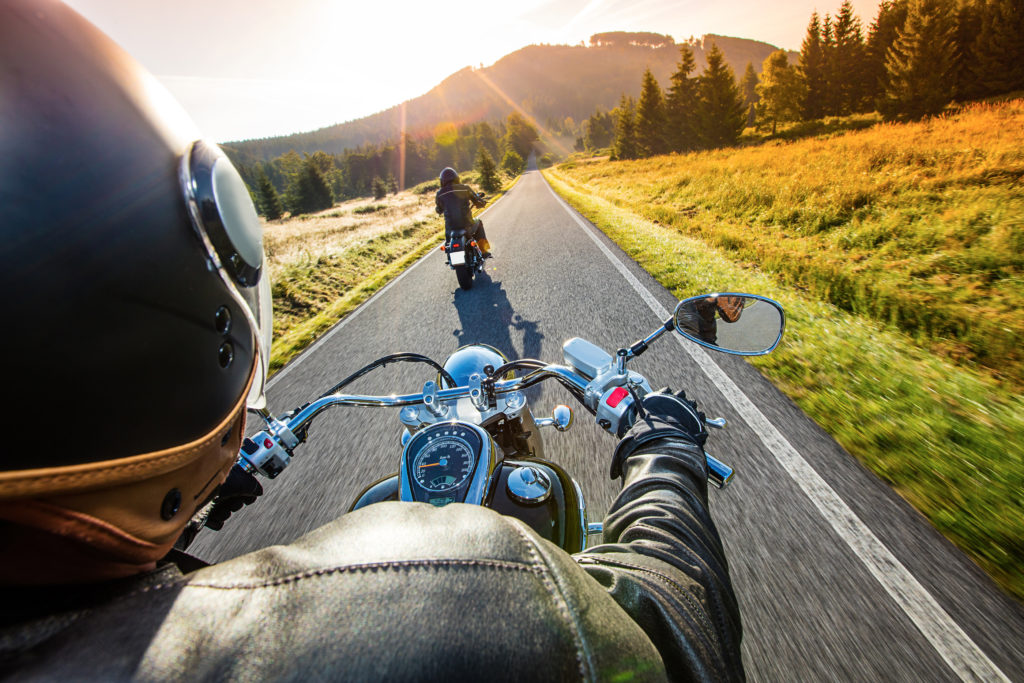 Some are better known than others, but all of them are top picks for motorcycle riders who love the freedom of the open road.
Highway 395 (California)
There's no denying the world-class scenery along PCH 1 along California's West Coast, but have you considered the eastern side of the state? This stretch of road runs east of the Sierra Nevada mountain range, taking riders past a host of small towns, ghost towns, ski resorts, a bevy of crazy formations and… Lake Tahoe. Hello, it doesn't get better than this. Tahoe is good for skiing in the winter, but it's just as exciting year round. Other awesome "must see spots" include the Ancient Bristlecone Pine Forest, Death Valley National Park (and it's "moving rocks"), Bodie State Historic Park (here's where the ghosts come in), Alabama Hills (movie sets galore), and much, much more.
Blue Ridge Parkway (Virginia and North Carolina)
A mountain route that's a must on every serious rider's list: if you start north in Virginia it will take you past Civil War battle sites—almost unimaginable when you take in the idyllic countryside. As you head south you start climbing the amazing Great Smoky Mountains with its sexy curves and magnificent scenery. You won't be able to open the throttle and put the pedal to the metal with the 45-mile-an-hour speed limit, but you'll certainly have time to take it all in.
Talimena Scenic Byway (Arkansas) 
Located in the southeast region of Oklahoma, this ride starts in the tiny town of Talihina, about 60 miles southwest of Fort Smith Arkansas. The road extends west to east along the ridgeline of the Winding Stair Mountain and Rich Mountain—these are the highest point in elevation between the Appalachians and the Rockies. Expect fifty miles of sharp curves and 13% grades all the way to the town of Mena, with stops along the way on lookouts over the valley (there are also picnic grounds along the route). Because of the steep grades and switchbacks the speed limit is pretty slow, so simply breathe easy and take it all in.
Long Island's North Shore
This popular motorcycle route is just minutes from Manhattan, NY, taking you all along the northern shore of Long Island. Take in the scenery of Oyster Bay Harbor but make sure you make time to stop in on any of the many eateries in the Town of Oyster Bay and walk around a while (to burn off some of those calories). Afterwards head back east (a stop at Teddy Roosevelt's house at Sagamore Hill is a must for history buffs) then go south for a few miles on Oyster Bay road until you hit 25A (east). This road will take you thorough some of Long Island's best villages—with plenty of restaurants to hit along the way.
Beartooth Highway (Montana and Wyoming)
There's a 69-mile stretch of US Highway 212 called Beartooth Highway that includes dozens of switchbacks and hairpins—making it the perfect road for an unforgettable bike ride. This roller coaster ride takes you through Beartooth Pass—at 10,947 feet—in Wyoming then zigs and zags its way across the Custer and Shoshone National Forests. The views of the high alpine meadows in the summertime will bring a tear to your eye (as well the lakes reflecting the snow-capped mountains). The route will take you southwest all the way to the northern gateway to Yellowstone National Park.
Do you have any favorite rides? Don't forget to take your SkyMed membership along for the ride… and your free SkyMed Travel app on your phone!