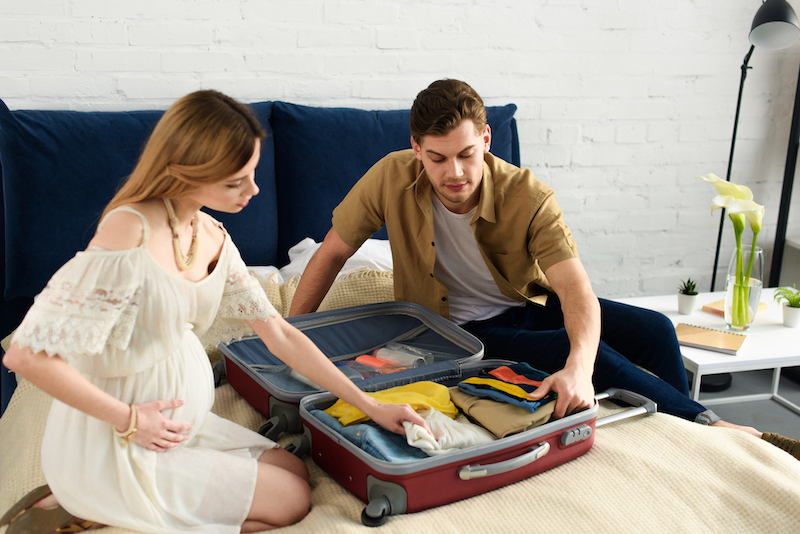 Whether you call it a babymoon or a last hurrah before the world begins to revolve around a certain tiny someone, the time to go is now! Make yourself and your partner a priority—and make time for a fun getaway. Traveling while pregnant might need a little extra planning, but it's good practice for when you're ready to travel with your actual bundle o' joy.
Talk To Your Doctor
As always: safety comes first. "Traveling" and "pregnancy" need not be mutually exclusive, but you are responsible for two now, and your doctor will be the best person to give you the thumbs up for your peace of mind. Some airlines do restrict expectant mothers beyond a certain number of weeks (check the website, they usually have a section dedicated to that) and might require a letter from your doctor after a certain point in the pregnancy. Many specialists recommend traveling during your second trimester instead of the first (for morning sickness issues) or the last (for size and comfort issues, not to mention you might be cutting it too close).
Pick The Perfect Place
While technically you could travel anywhere in the world, there ARE some practical considerations to consider. A trip through Sonoma's wineries might be the epitome of romance, but if you can't drink… You get the drift. Here's a hint: floating while pregnant is an absolute joy, so think beach. You can go all-out and exotic (Fiji?) or something a little closer (think Mexico or the USVI) but before you go, you'll want to check to ensure you'll have access to good medical care—just in case. (P.S. Take a copy of your latest medical records with you.)
Stay Active…
But keep the risks to a minimum! Brisk walks, yoga on the beach and low-impact swimming are better choices than scuba diving (a big no-no), skiing or mountain climbing. In fact, high altitudes are generally hard on pregnancies (especially if you have any risk factors at all), so you may want to consider that.
At The Airport
Heavy lifting is verboten for pregnant women, so don't hesitate to ask for help with your suitcase. And once you've made it to security, be sure to ask for a pat down instead of going through one of the spinning scanners or Advanced Imaging Technology scanners. Metal detectors are OK, but there are no long-term studies on the effects of ATIs, so it's best to avoid them. The airport is also the place where you'll want to break out the hand sanitizer—there's no such thing as being too cautious in a place where millions pass through. Take along a package of germ-killing wipes as well: you'll need them for the next step of your trip. And, these days, consider masking just to be on the safe side.
On The Plane
If you're flying, staying hydrated is your number one concern, followed closely by keeping the circulation going in your legs. Try to get up and move at least once every thirty minutes—the truth is, with all that water you'll be drinking, you'll visit the restroom regularly. Consider an aisle seat so you don't have to squish over anyone to get there. And if you can spring for first or business class, by all means, do so, especially for a longer flight. You'll want the extra legroom, and the leg rests will be helpful. (Your doctor will probably talk to you about DVT (deep vein thrombosis), a condition for which you're more at risk when pregnant, so you should have on a pair of DVT-preventative in-flight socks—these days, compression socks come in all kinds of cute colors, so you don't have to worry about looking like a granny. Oh, and those wipes we mentioned will come in handy when you first sit down: don't be shy, wipe away, and stay away from the seatback pocket!
If you didn't have a SkyMed Membership before, now is the best time to get one! In case of a critical illness or injury while away, SkyMed Takes You Home! 
Please follow and like us: