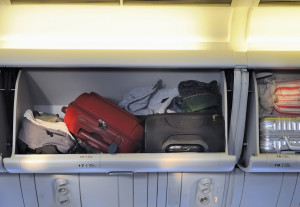 Seems like everyone in the airport is rolling a carry-on behind them these days, what with the rising cost of check-in bags—not to mention the long waits at the baggage claims belts. In the interest of helping our traveler friends make their bags lighter and more manageable, we've put together a list of 9 things you don't need to pack for a quick trip (and help save your back in the process).
Jewelry and valuables
The golden rule: If you can't afford to lose it, you can't afford to take it. Unless you have a formal occasion planned where the crown jewels need put on a command performance, just leave them at home.
Multiple zoom lenses
How many do you really need? Or more to the point: are you going on vacation or on a serious photo shoot? If it's the latter, then by all means rock it all. But if you're going on a quick weekend getaway—no matter how beautiful the destination—we're pretty sure you can make do and make great memories with either your top-of-the-line smartphone camera (plus you can edit right on it before posting to Facebook!) or a great compact point-and-shoot.
More than one pair of jeans
They're heavy, you can't wash them in the hotel sink, plus they'll never dry in time for you to use them. Pick your favorite pair (skinny, jegging, boot cut, straight leg… just pick one) and stick with it. Nowadays jeans are an international fashion item. Dress them up with a white shirt and a classic black blazer (musts in any suitcase, carry-on or not) or down with a t-shirt and loafers (yeah, we recommend a comfortable pair of those, as well).
Blow dryer
Nowadays most hotels have a hair dryer—and if you're staying with friends, chances are they'll have one. Check the hotel website, chances are you'll be fine. And if they don't have one and you really can't live without it, they leave the 5lb designer dryer with 10 settings and attachments at home and spring for a good compact version that won't steal space from your carry-on.
Guidebooks
Used to be it was fun carrying around a dog-eared guidebook that would finish the trip even more dog-eared and filled with notes, ticket stubs and receipts but… it's time to go digital and save yourself space and weight. Virtually all printed guides have virtual counterparts these days, some with interactive features that add another dimension of fun.
Travel iron
Ok, let's start with the fact you really shouldn't be packing anything you'll need to iron. Why? Because would you rather be out and about or in the room de-wrinkling? If you must take a shirt that doesn't meet the "shake and wear" test, have it professionally folded at the cleaners with tissue paper or fold it in a dry cleaning bag (Fodor's gives some great tips here). Besides, much like the blow dryer, many hotels either have one in the room already or you can request one from housekeeping.
Too many chargers and cables
Don't worry: we know you need to keep the juice on. Fortunately, there are now wonderful little gadgets with multi-USB ports and the like that can help you clean up the clutter and keep your electronics at 100%.
New shoes
Please don't try to break in a pair of shoes away from home. That's just a recipe for blisters and misery. Wear them in for a few weeks before you go, preferably under different conditions and certainly in some mimicking what you're going to do on vacation. You don't want to limp around a museum in cheap flip flops because your awesome new kicks chewed up the back of your ankles.
Anything that reeks of "just in case"
That extra pair of shoes (see above), that extra pair of jeans (see even further above), those three extra shirts, that second belt, sweater, wrap… you get the idea. Why? Because chances are, none of it will make it out of your suitcase.
One thing that fits in every suitcase? A SkyMed International membership. Whether you're going across the country or across the world, it's better to have it and not need it than need it and not have it!
Please follow and like us: